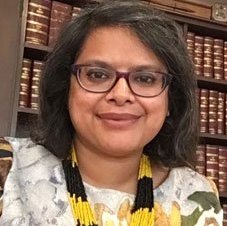 Romita Ray
Associate Professor, Art and Music Histories, Syracuse University
Organizer of:
---
Born and brought up in the bustling Indian city of Calcutta (now Kolkata), once the colonial capital of the British Raj, Romita Ray specializes in the art and architecture of the British Empire in India. At Syracuse University, she teaches European art and architecture (18th, 19th, and early 20th centuries), Indian art and architecture, post-colonial theory, theories of Orientalism, and film studies. Dr. Ray has also taught at Colby College, the University of Georgia, and Yonsei University (Seoul, Korea). Her research interests center on the art and architecture of the British empire in India, history of science, landscape and animal studies, the Anthropocene, post-colonial theory, Orientalism in art, and material culture. Dr. Ray is an editorial board member for the Journal of South Asian Studies and a member of the Advisory Committee for the Indian Council of Historical Research based in New Delhi, India. She also serves as Executive Board Member at Large (2021-2024) for the American Society for Eighteenth Century Studies(ASECS), and is a member of the Advisory Committee for the Plant Humanities Initiative at Dumbarton Oaks, Harvard University (2021-2022). Dr. Ray is particularly partial to elephants, and an Elephant of the Month posting can be found on her office door in Bowne Hall (contributions to the EOM series are welcome).
Her first book in her area of specialty is about the picturesque in British India. She is currently working on her next book about the visual cultures of tea in colonial and modern India for which she received a year-long Fellowship in 2016 from the National Endowment for the Humanities to conduct her research in India, the UK, and Sri Lanka. More about this project can be found here: http://bit.ly/2ppR38A.
Her perambulations through tea country in India and tea-related spaces of London resulted in a series of blogposts she was invited to write by Teabox.com, an online purveyor of fine estate teas. Her posts can be found on their site https://www.teabox.com/ or below, on this page, under "Musings." Much to her surprise and delight, her post about the inimitable moustache cup attracted the attention of Snapzu, a community of bloggers and other web influencers, who voted it among the best "world politics" and "lifestyle" blogs.
Dr. Ray welcomes students interested in working on:
Art and Architecture of the British and French Empires
South Asian Art and Architecture
Art and Architecture of the British Raj
Landscape and Empire
Animals and Empire
Photography and film
Orientalism in art and architecture
Material culture and empire
Diaspora and post-colonial aesthetics
Art and the Anthropocene
Between 2018 and 2020, Dr. Ray led a Landscape Studies Interdisciplinary Faculty Research Seminar funded by the CUSE Grant Program at Syracuse University, which culminated in a research websitewith contributions from faculty and graduate students at SU and SUNY College of Environmental Science and Forestry. In 2019, she collaborated with her students, Dr. Daniel Acuna (i-School), Elizabeth Novoa (Unika Analytics), SUArt Galleries, and the Special Collections Research Center to create a research-based website, Romanticism at Syracuse University, which features short essays about objects in the art collections at SU, written by her students enrolled in a course about the Art of Romanticism.
Romita Ray has curated numerous exhibitions while she was Curator of Prints and Drawings at the Georgia Museum of Art at the University of Georgia. She was also the guest curator at the National Portrait Gallery in London, for the British India section of the exhibition, Between Worlds: Voyagers to Britain 1700-1850, organized by Dr. Jocelyn Hackforth-Jones in 2007.