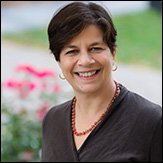 Mary Jane Curry
Associate Professor of Education, University of Rochester
Organizer of:
---
Since 2003, Mary Jane Curry has taught courses in language education, literacy, research writing and academic publishing. Her doctoral seminars have focused on critical literacy, language and literacy across cultures, and language, literacy, and globalization. From 2012 to 2017 she was the principal investigator of a U.S. Department of Education Office of English Language Acquisition National Professional Development grant for ESOL teacher education, Project CELLS: Western New York Collaboration for English Language Learner Success.

Curry was a Fulbright scholar in Chile in 2014 and a visiting scholar at the University of Pittsburgh School of Education and the Chalmers University of Technology in Gothenburg, Sweden, in 2022.

Curry's main research focus has explored the social practices of global knowledge construction by examining the experiences and perspectives of scholars who use English as an additional language. Since 2001, with Theresa Lillis of the Open University, she has examined the English academic writing and publishing practices of 50 southern and central European scholars. This work has resulted in three co-authored or co-edited books: Academic Writing in a Global Context: The Politics and Practices of Publishing in English (Routledge, 2010); A Scholar's Guide to Getting Published in English: Critical Choices and Practical Strategies (Multilingual Matters, 2013); and Global Academic Publishing: Policies, Perspectives, and Pedagogies (Multilingual Matters, 2018). Curry and Lillis have also published numerous articles and book chapters. Open access articles include the 2019 article 'Unpacking the lore on multilingual scholars publishing in English" and the 2014 article "Strategies and tactics in academic knowledge production by multilingual scholars."   

Curry has also researched academic communication by engineering faculty and graduate students, resulting in a co-edited book with David I. Hanauer, titled Language, Literacy, and Learning in STEM Education: Research Methods and Perspectives from Applied Linguistics (John Benjamins, 2014).

An earlier strand of her work was studying the experiences of immigrant/refugee community college students, resulting in articles and book chapters published between 2001 and 2007, and a co-edited book with Shawna Shapiro and Raichle Farrelly, titled Educating Refugee-background Students: Critical Issues and Dynamic Contexts (Multilingual Matters, 2018)

Curry is also co-author of An A to W of Academic Literacy: Key Concepts and Practices for Graduate Students (University of Michigan Press, 2021), written with six Warner School doctoral students; and Teaching Academic Writing: A Toolkit for Higher Education (Routledge, 2002). She has written articles, reviews and book chapters on teaching writing to students using English as an additional language and the experiences of immigrant students learning English writing at the community college. The project she is currently researching takes a reflexive turn, as an autoethnography of her educational journey growing up in Pittsburgh, Pennsylvania, in the 1960s and 1970s, to be portrayed in the book Class Notes: An Urban Education.

Curry is the founding director of the Warner School's Writing Support Services, which offers students and faculty free individual consultations, ongoing workshops and occasional writing retreats.