HF3: Community-Engaged Public Humanities
---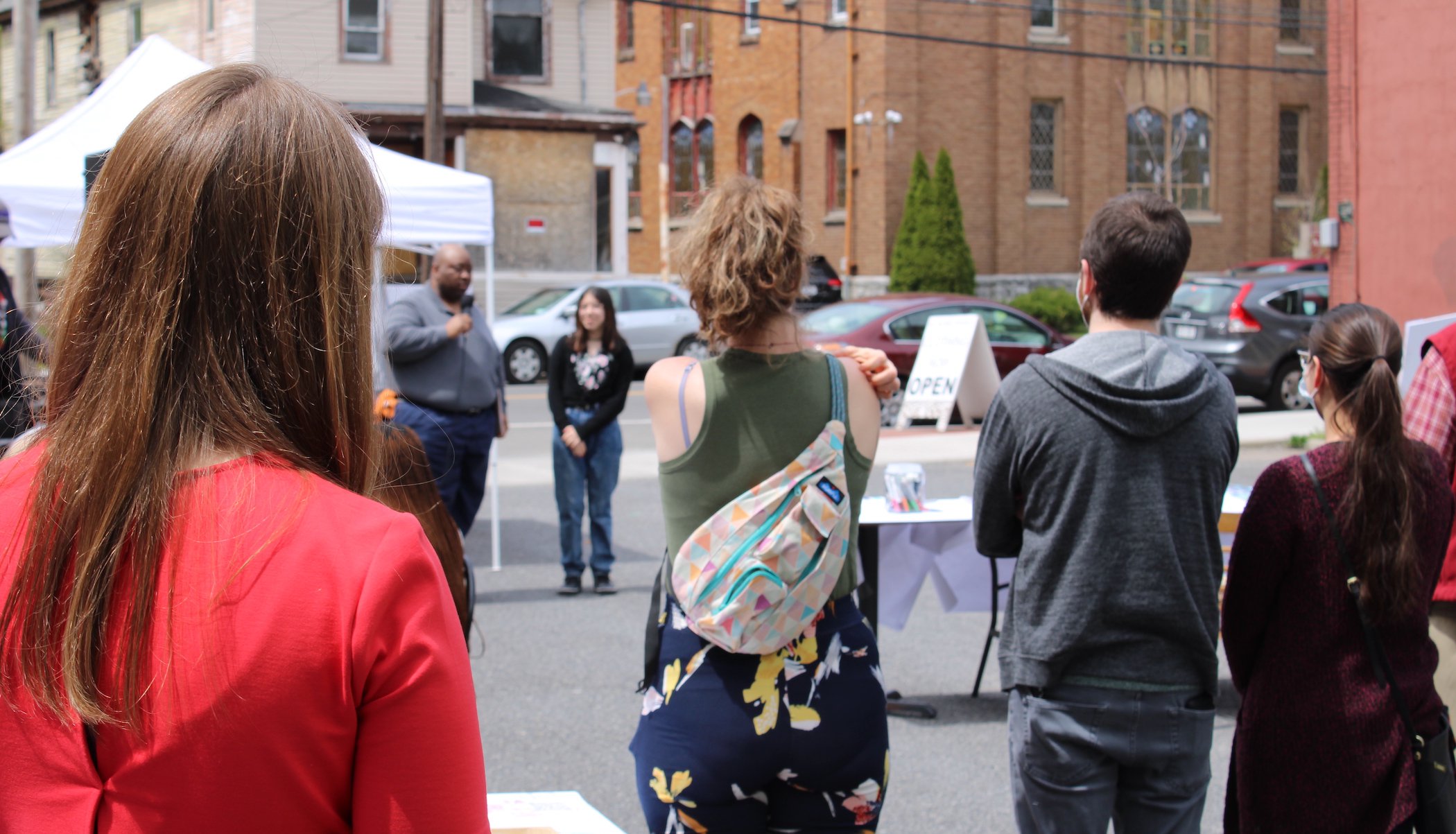 About
In collaboration with community partners, we develop and support: participatory action research; humanities and arts programs; and interventions responsive to current conditions and pressing needs in Central New York and around the world.
Open to New People
Active since: 2019
Syracuse University
Cornell University
Hamilton College
Collaborative Goals
We focus on publicly engaged humanities research, teaching, and collaboration. The theme of "place" and "place-making" grounds our interdisciplinary and cross-institutional work. Through cross-institutional communication and collaboration, we hope to grow our knowledge and practice of community-engaged public humanities by: (a) interconnecting public humanities programs and activities across the Central New York region; (b) mentoring undergraduate and graduate students to participate in the conceptualization and execution of publicly engaged scholarship; and (c) curating a set of publicly engaged activities and artifacts that can be shared widely across the Corridor network.
This year, our working group aimed to connect activities to broader, multi-organizational humanities initiatives to help extend and strengthen infrastructures of publicly engaged scholarship across our institutions, cities and the region. We met these goals by collaborating with colleagues, students, and community partners on two board initiatives: 1.) A public exhibition and series of related events associated with Rina Banerjee's Jeannette K. Watson Distinguished Visiting Professorship in the Humanities, and 2.) the Environmental Storytelling Series of Central New York, an annual series of linked events, programs, and courses engaging the impacts of the climate crisis on Central New York and interconnected ecosystems around the world.
1.) Banerjee's Watson Professorship included an exhibition of drawings and three critical art installations at SU Art Museum and a series of more than 15 associated events. In addition to supporting the overall exhibit, HF3 coordinated 3 key publicly engaged events: 1.) Love in Syracuse: A Public Art Installation at Salt City Market in Syracuse, which included a rope braiding project led by Banerjee involving over 30 participants from resettled refugee and immigrant communities across Syracuse; 2.) A Corridor Signature Event and public dialogue between Banerjee and Gayatri Spivak about reason and imagination, and sign and trace; and 3.) A performance by Narratio Fellows Khadija Sharif, Zamzam Mohamed, and Justo Antonio Triana who composed original poetry inspired by Rina Banerjee's Take Me to the Palace of Love exhibition, along with a short film screening by fellowship alum Rayan Mohammed.
2.) The Environmental Storytelling Series (ESS) of Central New York is a collaboration between Syracuse University's Engaged Humanities Network and SUNY ESF's Writing, Rhetoric, and Communications Program that foregrounds artistic expression and humanistic interpretation in pursuit of mutual understanding and collective action around ecological crisis. In its inaugural year, the series included 8 events and connected with more than 500 SU and ESF faculty, students, and staff and community members from across the city and region. Additionally, the series produced issue-based learning guides to connect youth-focused engaged humanities projects across the region, expanding the impact and reach of storytellers beyond discrete events. HF3 sponsored and coordinated two interconnected events in this series and an associated learning guide featuring civil rights leader and author George Lakey. In his public talk, "Nonviolent Action from Civil Rights to Climate Justice" Lakey drew on principles from his 2018 book, How We Win: A Guide to Nonviolent Direct Action Campaigning, to discuss his work with the Earth Quaker Action Team (EQAT), a mostly youth-led coalition, which he co-founded to pursue ecojustice at the intersections of race, class, queerness, and the climate crisis. In a follow-up non-violent action training at the Community Folk Art Center in Syracuse, Lakey worked with community leaders and university students, faculty, and staff to think carefully about how they can craft nonviolent social change campaigns to be inclusive, powerful, and successful.
Our integrations with broader, publicly engaged humanities initiatives this year strengthened our working group's network through the development of collaborative relationships. HF3's contributions to Banerjee's exhibition and programming involved close working relationships with the SU Art Museum, faculty in SU's Department of Art History, Hendricks Chapel and SU's Humanities Center. HF3's activities also brought a number of community-based organizations into these activities: the North Side Learning Center, Narratio, Write Out, and others.
HF3's contributions to the Environmental Storytelling Series of Central New York through events with George Lakey helped strengthen partnerships between SU and SUNY ESF and forged new collaborations with Syracuse Cultural Workers and Syracuse Peace Counsel.
While our group activities continue to strengthen relationships across colleges, schools, and organizations in Syracuse, we need to increase regional collaboration with Hamilton, Cornell, and other Corridor schools, and their networks of community partners. This will need to be a central focus for our working group moving forward, and we're very open to suggestions from Corridor administration about how to best grow and strengthen these relationships.
Foster exchanges across publicly engaged research, teaching, and creative projects across Central New York
Create opportunities to develop skills and methods of publicly engaged scholarship with collaborators across levels of experience and stages of education
Organize interventions responsive to current conditions and pressing needs in Central New York and around the world