Travel and Language: Narrating the Immigrant Experience
---
About This Event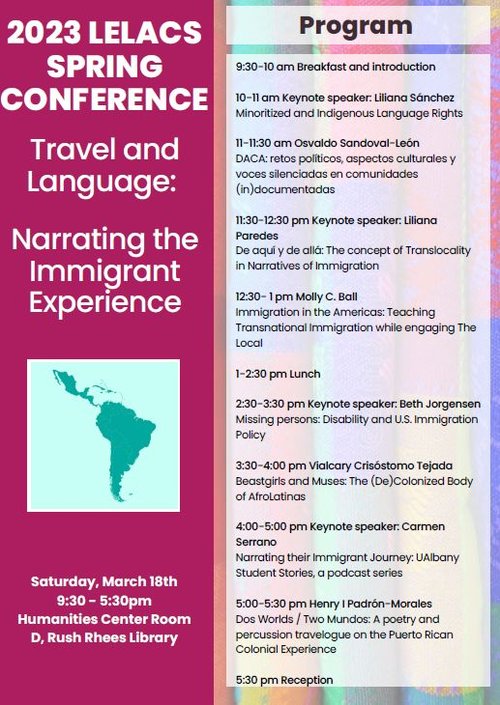 This one day conference covers the topic of moving communities from a multidisciplinary scope: socio-linguistics, history, cultural studies, ethnic and media studies, and performance. We talk not only about narratives of arrival, but also about narratives of deportation and re-integration in communities of initial departure. Highlighting contributions of students of Latino descent, the gathering also features a Poster Board Presentation, and reception.
Featured Guests
Liliana Sánchez, University of Illinois Chicago Liliana Paredes, Duke University Carmen Serrano, SUNY Albany Beth Jorgensen, University of Rochester, Professor Emerita Vialcary Crisostomo, University of Rochester, Modern Languages and Cultures Molly Ball, University of Rochester, History Department Osvaldo Sandoval-León, Colgate College Henry Padrón- Morales, Community Activist, teacher and artist, Rochester, NY
Co-sponsors
The Department of Modern Languages and Cultures of the University of Rochester is co-sponsoring and contributing to this conference.