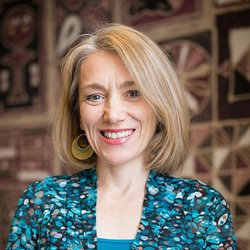 Stacey Langwick
Associate Professor of Anthropology, Cornell University
Organizer of:
---
I am a cultural and medical anthropologist. In addition to a PhD in Anthropology, I also hold a Master's Degree in Public Health. My research, teaching, collaborations and program-building focus on healing and medicine in East Africa. The majority of my fieldwork over the past twenty years has studied healing practices in Tanzania. I have examined how health has been mobilized both as a form a governance and as a platform for change. I approach healing as practices dedicated to both knowledge production and worldmaking. These days, I am particularly interested in experiments – therapeutic, agricultural, economic, social and artistic – in ways of knowing, forms of collaboration, and modes of embodiment that strive to re-think and re-stage health on, and of, the planet.
At Cornell, I teach both undergraduate and graduate courses on the anthropology of medicine, the body, postcolonial science, toxicity, critical plant studies and Africa. I am also an active member of the Global Health Program. In Tanzania, I have taught and mentored medical students on ethics and qualitative methodologies.
I serve as the lead faculty for the Qualities of Life working group in the Einaudi Center, as a co-organizer of the Ecological Learning Collaboratory and as a member of the international group Translating Vitalities. All of these collaborative initiatives are experimenting with authorship, voice, the medium of work, the nitty-gritty of collective practice, and the possibility of establishing the relations that might generate new senses and sensibilities, new bodies and modes of being. With two colleagues from Syracuse University, I co-organize the Central New York Mellon Corridor working group on Health Humanities: Medicine, Illness, Disability, and Culture. I also enjoy an ever-growing connection with the Johnson Art Museum and am very interested in art as a space in which things that exist in radically different registers of knowledge (medicine and myth for example) may be made proximate in practice (a move, that is, I suggest, critical to any decolonization of knowledge/matter). My current collaborations seek to explore the generative frictions of art and anthropology.