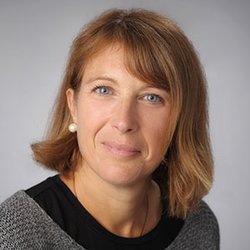 Linda Euto
Associate Director, Research and Evaluation, Institute for Veterans and Military Families (IVMF), Syracuse University
Organizer of:
---
Linda Euto '86, G'91, Ph.D.'02, is the associate director for research and evaluation at the Institute for Veterans and Military Families (IVMF) at Syracuse University. As a member of the research team, she supports research related efforts in conducting, facilitating, and disseminating research that informs programs, and guides policy and practice across the veteran and military family community.
Linda comes to IVMF with an extensive skill set in both the media/communications and research/evaluation areas, in both the private and public sectors. Throughout her wide-ranging career, she worked as a writer/producer/executive producer for nearly ten years for the ABC and NBC affiliates in the Albany and Syracuse markets.  As an instructional designer, Linda designed and managed technology exhibits at the Chicago Children's Museum and worked as an evaluation consultant for various companies and organizations.  She also has extensive experience working with charitable and non-profit organizations, focusing on children's education, athletics, community, and educational programs for at-risk populations.
Linda holds a bachelor's degree in political science, a master's degree in television, radio, and film, and her Ph.D. in instructional design, development, and evaluation, all from Syracuse University.