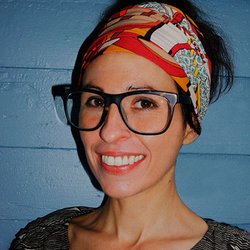 Leila Nadir
Associate Professor; Program Director Environmental Humanities Program, University of Rochester
Organizer of:
---
Leila Christine Nadir is an associate professor of environmental humanities and the founding director of the University of Rochester Environmental Humanities Program. She holds a BA from Syracuse University and an MA and PhD in English and Comparative Literature from Columbia University. Her creative-critical research practice is post-disciplinary, traversing diverse media, including fine art, public performance, scholarship, and essays, and focuses on ruderal ecologies, public health, cultural memory, and the possibility of repair after disaster and ruins in the Anthropocene. From the war in Afghanistan to the ecological degradation of the Rust Belt to intergenerational trauma, both psychological and ecological, Professor Nadir studies the question of how healing of both the self and the earth arises from slow, long-term creative exploration. Her work is in the collections of the Whitney Museum of American Art, the New Museum, and the Cornell University Rose Goldsen Archive of New Media Art.
Professor Nadir's current projects include Edible Ecologies, a series of socially engaged artworks, undertaken in collaboration with Professor Cary Adams of the Department of Art and Art History, that facilitate recovery from a cultural memory disorder that they call "industrial amnesia." Through open-ended, experimental collaborations with the public, this series has brought endangered food and environmental practices into poetic visibility, feeling-perception, and the simple acts of everyday life. Edible Ecologies has been performed and exhibited internationally and has been supported by the National Endowment for the Arts, BEMIS Center for Contemporary Arts, Center for Land Use Interpretation, Franklin Furnace Fund for Performance Art, and New York Foundation for the Arts.
Professor Nadir is also at work on a memoir, titled Bad Muslim, about her childhood experiences growing up in an Afghan-American family in the wilderness of rural New York State. Essays from this project, exploring Islamophobia, Afghan diaspora, bicultural identity, American frontier mythologies, and national-ecological displacement, have appeared in Asian American Literary Review, North American Review, Aster(ix), McSweeney's, and Memoir Pool.