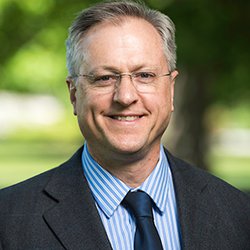 Jeffrey Runner
Dean of the College in Arts, Sciences and Engineering, University of Rochester
Organizer of:
---
Jeffrey Runner became dean of the College on July 1, 2017. In this role, he is responsible for 16 offices and centers in Arts, Sciences and Engineering that focus on areas including academics, research, undergraduate support and advising, student life, and diversity.
Administrative and Academic Leadership
Runner has been teaching at the University since 1994. He has been a professor of linguistics since 2015, and has held a secondary appointment in the Department of Brain and Cognitive Sciences since 2005. Runner served for many years as a freshman and sophomore pre-major adviser, and has advised many bachelor's, master's, and doctoral degree candidates. In 2006, he received the Goergen Award for Excellence in Undergraduate Teaching.
In 2014, he was appointed chair of the Department of Linguistics. He has been a member of the Center for Language Sciences (CLS)—an interdisciplinary center supporting research and training in natural language—since 1994, and served as CLS director from 2009–14.  He was also director of graduate studies in linguistics from 2015–16, and has been a faculty associate of the Susan B. Anthony Institute for Gender and Women's Studies since 2003, serving at different times as its curriculum director, chair of the Curriculum Committee, chair of the Governance Committee, and acting director.
Runner also served as Faculty Development and Diversity Officer for Arts, Sciences and Engineering, a position that works with University leadership and faculty to develop strategies for greater hiring and retention of underrepresented faculty.
Research and Scholarship
Runner's research focuses on syntax—the study of the sentence structure in the world's languages—and his lab uses visual world eye-tracking and other experimental methodologies to examine how sentence structure affects meaning. Experimental syntax uses tools from experimental psycholinguistics to learn more about the ways these structures differ cross-linguistically, as well as to understand how a language's structures affect how people use and produce their language.
His research has been supported by the National Science Foundation since 2002 and he has published in some of the top journals in the field, including Linguistic Inquiry, Linguistics and Philosophy, Cognition, Syntax, and Cognitive Science, as well as in The Blackwell Companion to Syntax.
He received a PhD in linguistics from the University of Massachusetts, Amherst, and a bachelor's degree in linguistics from the University of California, Santa Cruz.