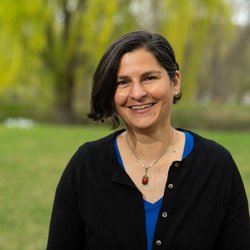 Aimee Germain
CNY Humanities Corridor Program Manager, Syracuse University
Organizer of:
---
As Program Manager for the CNY Humanities Corridor, Aimee Germain works collaboratively with the Corridor's multi-institutional leadership team to provide strategic direction, fiscal management, and programming. She is a resource for humanities faculty seeking to forge intellectual and pedagogical partnerships with colleagues across the region.
An academic and non-profit administrator for over 20 years, Aimee has worked at a variety of institutions, big and small. Most recently, she served as Program Manager for the Gund Institute for Environment at the University of Vermont. Aimee's areas of expertise span budgeting, alumni and foundation relations, graduate student admissions, event management, and diversity, equity, and inclusion.
A Michigan native who was an opportunity program alumna and first-generation college student, Aimee received her Bachelor's degree from the University of Michigan and her Master's degree from the London School of Economics and Political Science.