HF8: Curating the Middle Ages
---
About
This Working Group brings together curators and scholars of the Middle Ages who seek to highlight underrepresented voices in institutional collections and to broaden our understanding of the medieval period through engagement with primary sources.
Open to New People
Active since: 2022
Syracuse University
University of Rochester
Collaborative Goals
- Assess methodological concepts of a more inclusive Middle Ages (i.e. the Global Middle Ages, microhistory, etc.) and their applications in a special collections setting.
- Interrogate the ways in which the paradigms of a global Middle Ages and a diverse special collections might intersect, where they might productively trouble our assumptions about the past and our concretization of those assumptions in our conceptualization of "special collections".
- Develop a set of approaches and tools aimed at diversifying the collections that we steward.
- Exchange linguistic and historical competencies in describing and interpreting items in our collections that have been under-researched due to a lack of in-house expertise.
- Explore and assess pedagogical approaches to premodern collections within the framework of inclusive primary source instruction and curation.
- Build a Humanities Corridor network of GLAM professionals, faculty, and students who work with premodern collections.
Group Organizers
Director, Rossell Hope Robbins Library and Koller-Collins Center for English Studies, University of Rochester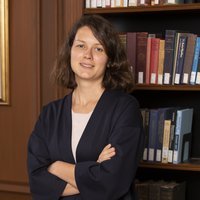 SCRC Curator, Early to pre-20th Century, Syracuse University
Group Members
Juilee Decker, Professor of History and Museum Studies Program Director, Rochester Institute of Technology
Nancy Norwood, Curator of European Art, Memorial Art Gallery, University of Rochester
Lisa Wright, Digitization Specialist, Rush Rhees Library, University of Rochester
One of the most important outcomes of the past semester was the strengthening of ties between Rochester Institute of Technology, the University of Rochester, and Syracuse University. In March, one of the co-organizers of the group, Anna Siebach-Larsen and a student of Juilee Decker, another co-organizer of the group, took part in an all-day workshop on medieval manuscripts organized by Syracuse University Libraries. In April, together with her colleagues and students Juilee Decker came to Syracuse to give a lecture about the multi-spectral imaging system developed by RIT. They will be coming to the University of Rochester in July to work with UR's collections. We are also planning a series of activities aimed at community building around premodern collections in Syracuse and Rochester (including RIT) for the fall and spring semesters. We hope to continue expanding the network of GLAM professionals, faculty and students who work with premodern collections in Central New York. The activities we held during Spring 2023 have garnered significant interest in our communities, and we are excited to build upon our success in the coming year. We plan to report on our work at several upcoming international conferences.
Alongside the impact of a more connected network of medievalists and early modernists across the Corridor, this group has already led to the brainstorming of possible future collaborations, including support for an ICMA (International Center for Medieval Art) sponsored exhibit and symposium at RIT. We are also in discussions at our respective campuses for possible events and collaborations, including external speakers and collaborative musical performances from manuscripts in our collections. We have publicized the group at the International Congress on Medieval Studies, RBMS, and other international conferences, and foresee increased collaboration (possible symposia, workshops, and/or conference panels) not just across the Corridor institutions, but also with our colleagues outside the Corridor. There is a clear interest and need for this group, and we believe that the Group can be a model and forum for national and international visibility and engagement.