Tools for Tackling Imposter Syndrome Workshop with Michelle Thompson
---
About This Event
Imposter syndrome and perfectionism are increasingly understood as issues that can negatively impact academic life-what's less talked about is how best to grapple with the ways in which they can manifest in our writing and sabotage research momentum.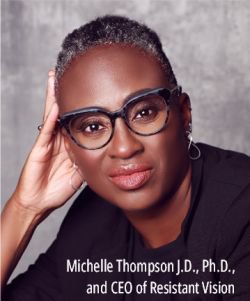 This workshop (9am to 12pm: April 29, 2022) offers strategies for managing these mental roadblocks. Through thought exercises and short writing prompts, as participants you will: learn tools designed to keep perfectionistic tendencies and imposter syndrome at bay; envision next steps in your academic writing, with an eye toward a workable plan for summer research projects; and begin to tap into the truth of your writing potential.
Michelle Thompson (Resistant Vision) presents a second workshop, "Find Your Purpose, Reconnect with Your Writing," on May 6th.

Please complete this optional pre-workshop survey. All information will be kept confidential.

Note: If you have registered for the second workshop with Michelle Thompson, you need to only complete the survey questions once, as they are the same for both workshops.
CART provided. Contact CNYHumanities@syr.edu by April 20, 2022 to request additional accommodations.
Hosted by the Corridor Futures and Initiatives (HF4) Working Group of the CNY Humanities Corridor, with additional support from the Syracuse University's Office of Research and College of Arts & Sciences.
Featured Guests
Michelle Thompson of Resistant Vision
Co-sponsors
Syracuse University's College of Arts and Sciences
Syracuse University's Office of Research