Hodinǫhsǫ:i? Holding Ground
---
About This Event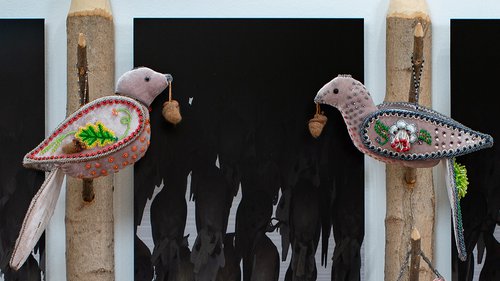 Hodinǫhsǫ:i? Holding Ground will convene Indigenous and allied knowledge holders in the fields of Archeology, Art History, Museum Studies, Hodinǫhsǫ:i? and Indigenous Studies to rethink "spatial relationships to place" informing a new decolonial territory through a close examination of material culture.
Following the Hodinǫhsǫ:i? "Words Before All Else" greeting by Sachem Sam George, Bear Clan, Gayog̱hó:nǫ́ (Cayuga Nation), the event will include presentations by Professor Kurt Jordan, Department of Anthropology and Director of the American Indian and Indigenous Studies Program at Cornell University, and traditional Hodinǫhsǫ:i? beadwork collector Dolores Elliot, in dialogue with Professor Jolene Rickard, Department of the History of Art and Visual Studies at Cornell.
Boxed lunches will be available (first-come, first-served).
Cornell University, Johnson Museum, 114 Central Ave., Ithaca, NY 14853
---
Activity Audience: Open to the Public
Activity Category: Workshop or Mini-Seminar
Host: Cornell University
---