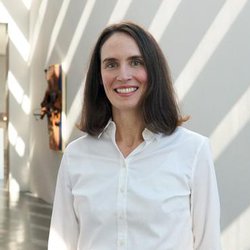 Kara Jefts
Collections Registrar, Tang Teaching Museum, Skidmore College
Organizer of:
---
​​Kara Jefts, Collections Registrar, joined the Tang Teaching Museum in 2019. Kara manages, cares for, and provides access to the collection for students, faculty, and others.
Since 2007, Kara has worked with teaching collections at academic institutions in Chicago and upstate New York including: University of Illinois at Chicago, School of the Art Institute of Chicago, The College of Saint Rose, and Union College. In addition to her work within collecting institutions, Kara has consulted on archive and record management projects to support to artists, collectors, and art advisors in Illinois and New York.
Kara earned a B.A. in Art History at Union College and a M.A. in Modern Art History at the School of the Art Institute of Chicago. An art historian by training, Kara is interested in creative approaches to collections management: where archival research inspires experimentation, and collaboration enables a better understanding of past and present moments.